Page 2 >
Photo Album
The following pages contain a selection of photographs of some of the artists appearing at our concerts. There are many more - far too many to include here. Even those which are included may make the pages slow to download on some computers, so the number of pictures on each page has been restricted
There were only three events in our first season. Peter Gellhorn got things started with a piano recital in November 1996. During World War II the Sadlers Wells Opera Company (of which he was director) were evacuated to Burnley and Peter had pleasant memories of the town and its people. It seemed most appropriate that he should give our inaugural recital.
The second concert took place in February 1997 and featured 'cellist Alice Neary and pianist Gretel Dowdeswell.
They were so well received that we invited them back in February 1999 - and yet again in November 2001!
That first season ended in April with a visit from the Landale Trio pictured below. The members of the group are Sarah Aston (flute), Neil Aston (clarinet) and Janine Smith (piano). The two "extras" are essential figures in the life of the society - secretary Fred Penney (left) and chairman Eric Tallett (right).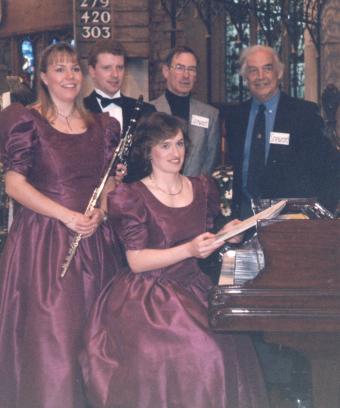 Page 2 >