Gramophone Society home page
< Venues
Playing equipment >
Fun and Games
Indications that the society was about more than just listening to records appear at an early stage. By 1953 at the latest there was an Excursion Secretary (Dorothy Knapton), and Hallé tickets to the value of £5 were purchased in October of that year. £5 would buy quite a lot of tickets in 1953, probably 20-30. A payment to Barley Coaches in March 1954 seems a little late for transport to that concert, but perhaps tickets were booked early and the coach company was tardy in sending its bill. Although the 1957 AGM dispensed with the post of excursion secretary, members still wanted concert trips to be arranged and it was suggested in 1960 that one member of the committee be delegated this task. A Hallé trip did in fact take place in the next season.

A Christmas party held in 1953 may not have been the first and, from then until about 1960, Christmas or New Year parties were held in most seasons. This photograph was taken in 1955 - the last Christmas at the Borough Café.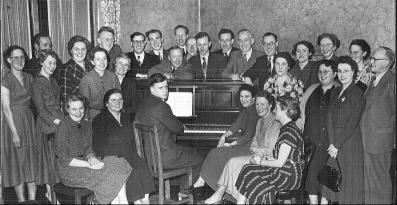 From 1961, an annual dinner seems to have become the main social event, taking place (with some gaps) at the Lord Nelson Hotel, the Hendly Hotel, the West Lynn (which had a lengthy spell as an hotel) and, in 1974, the Black Bull at Rimington. This photograph was taken at the West Lynn on Friday March 14th 1975 when the society was celebrating its 25th season. I remember it well; it was my first season as chairman.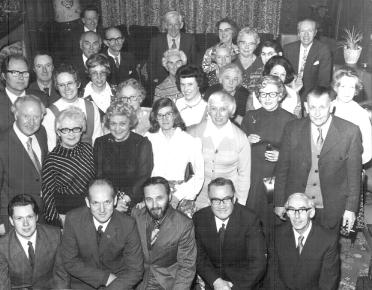 For several years starting in 1972 a Winter Social was also held in the buffet room at Silverman Hall. In 1975-76 both events were poorly attended and were therefore discontinued. It appeared that the society had lost much of the desire to socialise which had characterised its early years. The buffet supper at the last meeting before Christmas has, however, always attracted a good attendance.
< Venues
Playing equipment >
Gramophone Society home page