Gramophone Society home page
< Social activities
Conclusion >
Matters Technical
The last half century has seen three revolutionary developments in the reproduction of music. The first long-playing records were released by Decca in June 1950, stereophonic records from Pye followed in May 1958 and the compact disc was launched by Philips in March 1983.

Nelson Gramophone Society began its new life in October 1950 using the radiogram loaned by Mr. and Mrs. Roberts, the proprietors of the Borough Café. It was, of course, capable of playing only 78s which is what members' record collections would have consisted of anyway. Being a record and equipment retailer Alec Croasdale had early access to LPs and the means of playing them and programmes specifically mentioned as being on LP were presented by him during the first two seasons.

In 1950 Milton Harrison, announcing the forthcoming re-launch of the society in Matters Musical, noted that "The society intends to acquire its own reproducing apparatus as soon as possible" and another Leader article from a few years later reports that "in two years' time through the support of members, the group had paid for a complete three-piece modern Decca unit, now worth well over £60". Joe Jackson remembered the acquisition of this Decca equipment, recalling that it was bought on Alec Croasdale's recommendation, but I have not been able to ascertain exactly what it comprised or precisely when it was obtained.

Towards the end of the 1953-54 season the equipment started giving trouble. The amplifier was repaired by Croasdales twice in the next two years and two small items of expenditure for "electrical repairs" presumably also relate to the equipment. Shortly after moving to Rigby St. a new pickup head became necessary and a month later there was another payment to Croasdales "for check of machine".

By early 1959 the society had decided to replace its old equipment and a money-raising sub-committee was formed. Substantial loans from Arthur Mulligan and Joe Jackson were supplemented by the sale of £1 "shares" (actually small loans, later repaid) to members. Sales of donated records, raffles, collections and a coffee evening were held. Ruth Harrison also held a record and coffee evening at her home during the summer and a garden party took place at Marles Hill. These activities raised enough money to buy a Collaro motor with a heavy turntable and a Goodman's loudspeaker (£67­7­0 for the two items). An expenditure of £15 is also recorded for what is described as a "new pickup head" but the size of the sum suggests that this was the Ortofon arm which continued in use for many years. It was probably equipped with a Goldring ceramic turnover cartridge (some members were still bringing 78s to be played).

The Mullard 20 watt amplifier and pre-amplifier shown opposite were built for the society by Tom Pilling at a cost of £23. The old equipment was advertised for sale in the Northern Daily Telegraph and bought by Padiham Gramophone Society for £18. By the summer of 1961 the society had paid all its debts.

Stereo records were ubiquitous by 1963 but the society still lacked the means to play them. The equipment was mono, but a stereo pickup head would at least allow such discs to be played without groove damage and the 1963 AGM authorised the committee to consider such a purchase. Good stereo cartridges were all expensive magnetics, which is probably why there was still no stereo head two years later when Albert Sharp was asked to look into the matter. A recent arrival, the Decca "Deram" ceramic cartridge fitted the bill.

With the move to the College in the Autumn of 1967 the society finally "went stereo". The new equipment, purchased after a period of uncertainty and paid for once again by a combination of loans and donations from members and the proceeds of raffles, consisted of a Leak Stereo 20 valve amplifier with Varislope pre-amplifier, and loudspeaker systems, incorporating Wharfedale 12" and 5" units, built by Tom Pilling and John Singleton. The assembly of these speakers was completed late on Thursday night, just in time for the Friday meeting! The Collaro turntable and Ortofon arm continued in use and a Shure M3D magnetic cartridge was obtained.

By 1973 the society had been ousted from Room 79, with its convenient store room, and there was a need to provide secure storage for the equipment. John Singleton offered to construct a lockable cupboard on castors to hold all the equipment and, 30 years later, this item is still in use. In later years various parts of the sound system were replaced: there have been several changes of cartridge, the Transcriptors pickup arm arrived in 1976, the Thorens turntable in 1978 and the JVC solid-state amplifier in 1982. Speaker units have been replaced twice, first by Jordan-Watts metal cone units (two in each cabinet) and Decca ribbon tweeters, and in 1992, one or more of the Jordan-Watts units having failed, the bass speakers were replaced by 12" Peerless units. The original cabinets were retained. By 1985 presenters were often bringing tape cassettes to be played. Gordon Wilkinson had loaned a cassette player when necessary but it was decided that it was time for the society to buy one of its own.

At the 1985 AGM Gordon Wilkinson gave us our first taste of CD sound with Neville Marriner's recording of the Beethoven Eroica symphony. We knew that CD was here to stay and that members and visitors would, to an increasing extent, expect us to have facilities to play them and by 1988 the society had its own CD player (replaced with a new one in 1998). We now find that most of our programmes are wholly on CD. How things change!
Footnote
The Arcam amplifier shown below was acquired at the end of last season to replace out ageing JVC unit. We are confident that this fine piece of equipment, purchased with the aid of a grant from Pendle Community Network, will give excellent service for many years to come.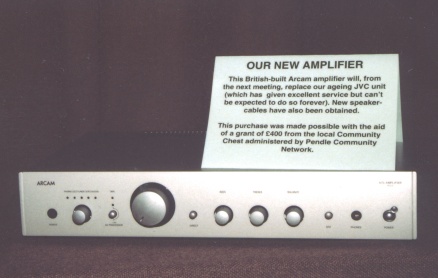 Gramophone Society home page