< Page 6
Photo Album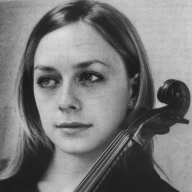 It's 2006 and we're three-quarters of the way through our 10th season so an update to this photo collection is long overdue. Solo pianists, piano trios and string quartets still provide a large slice of our repertoire but we do try to introduce variety into our programmes. Our attempt to mount a viola-and-piano recital in April 2001 underwent a last-minute change owing to Robin Ireland's accident to his arm (see p.5). We eventually heard such a recital in February 2004 from Rebecca Jones (right), whom we heard earlier as violist with the Smart String Quartet (see p.3), and her pianist partner Abigail Richards.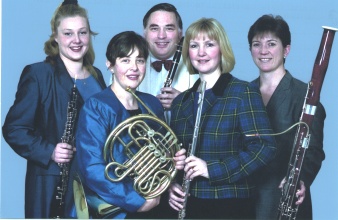 That season (the eighth) ended with another first for us; a concert by a most impressive wind quintet, Zephyr Winds. Apart from the Gounod Petite Symphonie this was a more modern programme than most but anyone who winced at seeing the name Ligeti on the programme must have been pleasantly surprised by these witty, ear-tickling pieces.
The saxophone has stronger associations with jazz and dance bands than with the "classical" repertoire but there has in fact been quite a lot of music written specially for it by composers such as Jacques Ibert, Florent Schmitt and Paul Creston. Saxophonist John Barker is seen here describing the music to the audience.
< Page 6