< season 7
season 9 >
Programme of Concerts
2003-2004 Season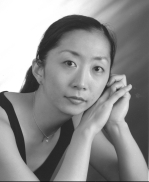 Saturday September 27th, 2003
Some of you may have heard the young Japanese pianist Naoko Matamura (right) last year in a Saturday morning concert at St. Peter's Church. She was partnered on that occasion by violinist Phillipa Jeffery (who has also played for the Music Society) and made such a strong impression that we had no hesitation in asking her to open the season with a solo piano recital.
Saturday November 8th, 2003
String quartets continue to play a large part in the Society's programmes and we are pleased to welcome the Dante String Quartet (below) who, we are confident, will provide an evening of music which is of neither the Inferno nor the Purgatorio, but definitely the Paradiso!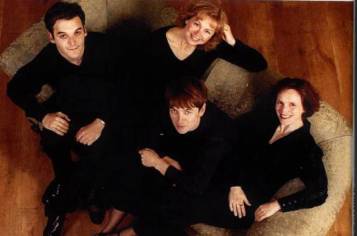 Saturday February 7th, 2004
When planning for the 7th season we surprised ourselves somewhat by the realisation that we had never hosted a violin and piano duo, despite the extensive repertoire available.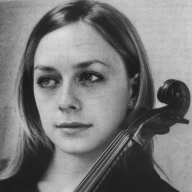 Having corrected the omission in November last year we turned our attention to the less familiar combination of viola and piano and, with the support of the Countess of Munster Musical Trust, have engaged violist Rebecca Jones (right), and Abigail Richards (piano).
Saturday April 24th, 2004
Always on the lookout for something a little out of the ordinary, we end the season with Zephyr Winds (below).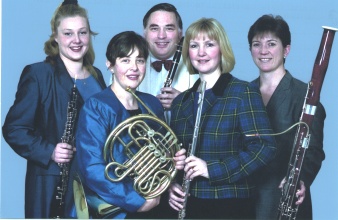 The lineup (left to right) consists of Ruth Davies (oboe), Lindsey Stoker (horn), Chris Swann (clarinet), Rachel Holt (flute), and Helen Peller (bassoon). Such a combination can be a delight to the ear and there is a substantial amount of music for it, both original and arranged.
Sat. 27th September
Naoko Matamaru (piano)
Debussy
Suite Bergamasque
Takemitsu
Rain Tree Sketch 1 & 2
Rachmaninov
Études Tableaux, Op.39
Schubert
Sonata in A major, D.959
Sat. 8th November
The Dante String Quartet
Mozart
Quartet in D, K.499 (Hoffmeister)
Szymanowski
Quartet No.2, Op.56
Beethoven
Quartet in E flat , Op.74 (Harp)
Sat. 7th February
Rebecca Jones (viola) andAbigail Richards (piano)
Schubert
Sonata in A min. (Arpeggione)
Britten
Elegy (for unaccompanied viola)
Schumann
Märchenbilder Op.133
Grieg
Sonata No.3 in C minor (arrangement of violin sonata)
Sat. 24th April
Zephyr Winds
Gounod
Petite Symphonie
Nielsen
Wind Quintet, Op.43
Ligeti
Six Bagatelles
Malcolm Arnold
Divertimento for flute oboe & clarinet
Jim Parker
Mississippi Five
Please note that the Nov.8th concert will take place at
Higherford Methodist Church,
Gisburn Road, Barrowford.
The other three are in St. Peter's Church, Church Street, Burnley.
All concerts start at 7.30 p.m.
The Society reserves the right to alter the published programme without notice.
< season 7
season 9 >