< season 9
season 11 >
Programme of Concerts
Season 10 (2005-2006)
The tenth season is an important landmark for the Society and it began in fine style with a recital by Nicholas Trygstad (cello) and Sam Armstrong (piano) — an American based in England (and recently appointed lead cellist of the Hallé) and an Englishman based in New York! Despite competing events in the area this concert was well-attended and every bit as musically satisfying as the committee had anticipated.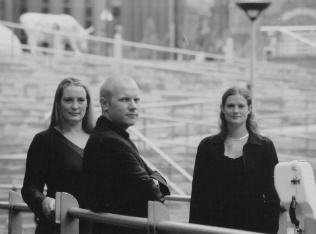 We continued on Saturday November 26th with a visit from the Manchester Piano Trio (see right). The members of this ensemble, which was founded in November 2003, are Jeremy Young (piano), Adi Brett (violin) and Jessica Burroughs (cello). The Trio, which is under the tutelage of Dr. Christopher Rowland of the Fitzwilliam Quartet, is currently appearing in concerts all round the UK. All three artists are beneficiaries of the Countess of Munster Musical Trust and the Society extends its thanks to the Trust for sponsoring this concert under the Countess of Munster Recital Scheme.
The programme mixed the familiar and the unfamilar, commencing with Mozart, ending with Dvorak's best-known Trio and, between these works, featuring a Trio by Simon Parkin.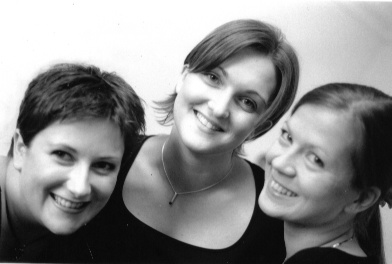 The third concert featured a delightful and unusual ensemble with an equally unusual name—intriplicate (no space, no initial capital). Pictured here, left to right, Claire Dunham (piano), Sally Richardson (oboe) and Claire Fillhart (flute) so obviously enjoyed every minute of their music-making and gave us an astonishing programme featuring no fewer than 10 composers ranging from the 17th century (Johann Christian Pepusch) to the 20th (Malcolm Arnold). The audience's enjoyment was also enhanced by the spoken introductions to each item.
The success of last season's string quartet recital in the recently-opened Christ Church, Nelson, encouraged us to use this venue again for the concert by the Sacconi String Quartet. First Prize winners in the Trondheim International String Quartet Competition, the Sacconis (Ben Hancox and Hannah Dawson, violins; Robin Ashwell, viola and Cara Berridge, cello) are now established as one of the finest young quartets in the country. On the evidence of their Mozart, Britten and Beethoven recital for the Music Society that reputation is fully deserved. The concert was extremely generous in length too.
The completion of the fourth concert would normally mean the end of the season for us but, this marking the completion of our first decade, we felt that some form of celebration was called for. We initially engaged the Etesian Ensemble, a piano and wind quintet who play on period instruments including a fortepiano, for Saturday May 20th but this arrangement unravelled and left us needing an alternative ensemble. The work of finding one was, in fact, done by Anneke Scott of the Etesians who put us in touch with Sharona Joshua, the director of Concerto Cristofori (Sharona Joshua, fortepiano; Peter Hanson, violin and Nia Harries, cello). Any lingering disappointment over the loss of the Etesians was quickly forgotten in this glorious all-Mozart programme. What better way could there be to celebrate the 250th anniversary of Mozart's birth and the tenth anniversary of the Music Society? The refreshments were special too; glasses of wine and tasty hot canapés instead of the usual tea and biscuits. Over 100 people attended and the evening was a huge success!
Sat.15th October
Nicholas Trygstad (cello) & Sam Armstrong (piano)
Beethoven
Twelve Variations on a Theme from Die Zauberflöte
Brahms
Sonata No.1 in E minor, Op.38
Chopin
Sonata in G minor, op.65
Martinu
Variations on a Theme of Rossini
Sat.26th November
The Manchester Piano Trio
Mozart
Trio No.3 in B flat major, K502
Simon Parkin
Piano Trio
Dvorak
Trio No.4 in E minor, Op.90 ("Dumky")
Sat.4th February
intriplicate (flute, oboe & piano)
Pepusch
Trio Sonata in G minor
Geoffrey Robbins
Pastorale
Gordon Jacob
Introduction & Allegro alla Tarantella
William Grant Still
Five Miniatures for Flute, Oboe and Piano
Rossini, arr.A.J.Brown
Overture The Barber of Seville
Gottfried Keller
Trio Sonata in B flat
Eugene Goossens
Pastorale et Arlequinade
Honegger
Petite Suite
Berlioz
Trio of the Young Ishmaelites
(from The Childhood of Christ)
Malcolm Arnold
Suite Bourgeoise for Flute, Oboe & piano
Sat.4th March
The Sacconi String Quartet
Mozart
Quartet No.14 in G major, K387
Britten
Quartet No.2 in C major, Op.36
Beethoven
Quartet No.8 in E minor, Op.59,No.2
(2nd "Rasumovsky" quartet)
Sat.20th April
Concerto Cristofori
Mozart
Piano Trio in C major, K 548
Mozart
Violin Sonata in G major, K 379
Mozart
Rondo for piano in A minor, K 511
Mozart
Piano Trio in E major, K 542
Please note that the Mar.4th and May 20th concerts will take place at
Christchurch,
Carr Road, Nelson.
The other three are in St. Peter's Church, Church Street, Burnley.
All concerts start at 7.30 p.m.
The Society reserves the right to alter the published programme without notice.
< season 9
season 11 >